Premier Optimum Income Fund
---
Aim:
The aim of the Fund is to generate an above average income, paid each quarter, and grow the value of investors' original investment over the long term.
The Premier Optimum Income Fund is designed to produce a balanced outcome of attractive levels of income with the potential for long term growth by investing across a wide range of income generating investments. The Fund will invest at least 80% in UK equities and can also benefit from the investment opportunities outside the UK by investing up to 20% in non-UK equities. Income is enhanced through an additional investment strategy by using "options", which are a type of financial derivative and allow the manager to increase the amount of income generated for investors.
---
In brief:
Aims to produce an attractive level of income, paid quarterly.
Mainly invests in UK equities.
An active option strategy is used to further enhance the income paid out.
Managed by an experienced manager with over 25 years of investment experience.
---
This Fund might be suitable for investors:
whose main investment priority is income with the potential for long-term capital growth.
who are comfortable with putting their money aside for the long term, so at least 7 years.
who appreciate the potential for superior returns of investing in equities, but also understand the higher risks attached to these investments.
who are looking to invest in a portfolio which invests primarily in equities.
who understand that there are no guarantees on the return of their original capital when they come to sell their investment.
---
This Fund might not be suitable for investors:
who are unable to accept the possibility of loss on their investment.
who are looking for short term gains.
The suitability descriptions above are for guidance only. We would always strongly recommend that investors consult with a financial adviser who can help assess risk profiles and the suitability of a fund. We are unable to provide individual investment advice or advise on the suitability of this Fund for individual investors.
Performance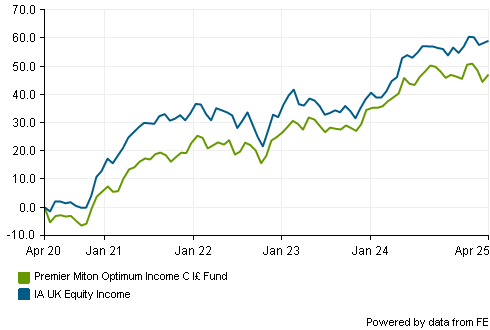 Annual Charges
| | |
| --- | --- |
| Fund Manager Charges | 0.75% |
| Platform Fee | 0.23% Cofunds / 0.25% FundsNetwork |
| Seymour Sinclair Fee | 0.20% |
| Total Cost | 1.20% |
Documents
Premier Optimum Income Fund Brochure
Premier Optimum Income Fund Key Features
Premier Optimum Income Fact Sheet
Buy through Seymour Sinclair Investments via the     Cofunds or Fundsnetwork Platforms
Online:
Choose which Platform you'd like to use and follow one of the links below.  Select Premier from the menu and choose the fund you'd like to invest in.  Follow the simple instructions to make your purchase.  A debit card will be required (credit cards are not accepted) and your National Insurance Number if you are investing in an ISA.  Our discounts will be automatically carried over.
Postal Application:
Print off and complete the Platform Business Investment application form making sure all parties sign and date it.
Enclose your cheque payable to either Cofunds Limited or Fidelity. If you are using a building society cheque, ensure that the society add 'reference (your name)' after the payee.  Do not make your cheque payable to Seymour Sinclair Investments as we will have to return it to you, which will cause a delay in an investment being made.
The Platform Business Investment application form identifies your personal details and the investment you wish to make. It also confirms that you wish us to act as your agent on an Execution Only basis in order to obtain an investment discount and that you fully understand the Terms under which your investment is being made and that we have not given any financial advice or recommendation.
Post to Seymour Sinclair Investments using the FREEPOST service –
Freepost RTUS-RXEY-BJSJ
Seymour Sinclair Investments Limited
2 Blade Mews, London SW15 2NF
---
DO NOT SEND DIRECTLY TO THE INVESTMENT COMPANY
No Initial Charges
0.25% p.a. Platform Fee
0.20% p.a. Agent Fee
0.75% p.a. Annual Management Charge
DOCUMENT DOWNLOADS
No Initial Charges
0.23% p.a. Platform Fee
0.20% p.a. Agent Fee
0.75% p.a. Annual Management Charge
DOCUMENT DOWNLOADS
This fund pays a variable level of income which can go down as well as up. The tables above are for illustrative purposes only and are not indicative of future income payments.
*The historic yield is a calculation of the income return on an investment, relative to its value. It is calculated using dividends paid over the past twelve months as a percentage of the mid-market unit price of the fund as at the date shown. The yield is not guaranteed and will fluctuate.
---
Important information
Remember that the value of investments and the income from them can go down as well as up and that past performance is no guarantee of future returns.  Key Feature documents give full details of aims, risks and charges – these should be read before you invest.  Whilst we provide product information, guidance and fund research, we cannot know which of these products or funds, if any, are suitable for your particular requirements and must leave that judgement to you.  Tax treatment depends on your individual circumstances and may be subject to change in the future.  If you are unsure about the suitability of an investment, you should seek expert financial advice.